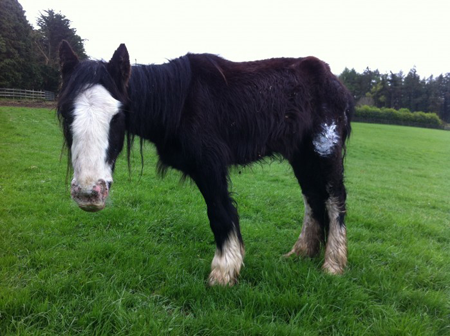 Help save the lives of horses in need
You can make a one off donation to the Irish Horse Welfare Trust by credit card or PayPal. The money that is donated to our Charity will go towards caring for rescues like Tess, who was rescued in April 2014 after being found abandoned on land in Wicklow. Tess came into our Equine Centre in a severely emaciated condition. Unfortunately she was so weak that after 2 weeks of care we had to make the decision to have her humanely put to sleep. There are many more horses like Tess who urgently need our help & care.
PLEASE SUPPORT OUR WORK
Donations can be posted to Irish Horse Welfare Trust or made through any bank to the Irish Horse Welfare Trust bank account:
A.I.B Bank, Church Road, Greystones, Co. Wicklow, Ireland
ACCOUNT NAME: Irish Horse Welfare Trust Ltd
IBAN: IE90 AIBK 9335 5412 0151 88
SWIFT: AIBKIE2D
Whichever way you decide to give, your kind donation will help us to care for horses, ponies and donkeys in need
Make a one off donation
You can safely and securely make a one off donation of any amount you can afford, though our payment provider paypal. If you don't have a paypal account, no problem – you can donate by credit card.
Make a regular donation
Our work is ongoing and regular contributions help us to continue to care for horses in need. You can safely and securely set up a regular donation with our payment provider paypal and you don't even need a paypal account!
On behalf of all the horses, THANK YOU!
Donate today and help us to continue our work of rescuing, rehabilitating & re-homing equines in need
How your donation will help
€25 will pay for a tetanus injection for a horse in need, protecting against this lethal disease
€60 will pay for a visit from our vet to a horse in need
€50 will feed one of our rescue horses for one month
€30 will supply pain killers for one week for a horse in need